Building on
Mongolia's first gas discovery
OVERVIEW
Elixir Energy Limited (ASX: EXR) is an ASX listed gas exploration and development company. It is currently primarily focused on an exploration and appraisal program in Mongolia targeting natural gas in the form of coal-bed methane (CBM – known as coal seam gas -CSG -in Australia). More recently, Elixir has been developing the Gobi H2 green hydrogen project in Mongolia.
Elixir holds 100% of a CBM production sharing contract (PSC), located just to the North of the Mongolian/Chinese border, which is called the Nomgon.
The Nomgon Project licence area covers ~30,000 km2 (~7 million acres).
The Company's strong foundation of multiple level Government and other energy stakeholder relationships is now being used as a platform to grow cleaner energy options involving hydrogen derived from renewables (green hydrogen).

DISCOVERY
Elixir made Mongolia's first gas discovery in 2020, booked the first contingent resources in 2021, has signed a MOU with the Government of Mongolia to seek to commercialise this through the country's first gas fired electricity generator and in 2022 will undertake an extended pilot production test with a view to proving commerciality.


PROGRAMS
The Company's current CBM 2022 exploration and appraisal program now includes around 20 wells, 330 kilometres of 2D seismic and an extended stage production test. The Gobi H2 project is being progressed on multiple fronts: measuring renewable resources, exploring for water sources, working with Government and other stakeholders, et cetera.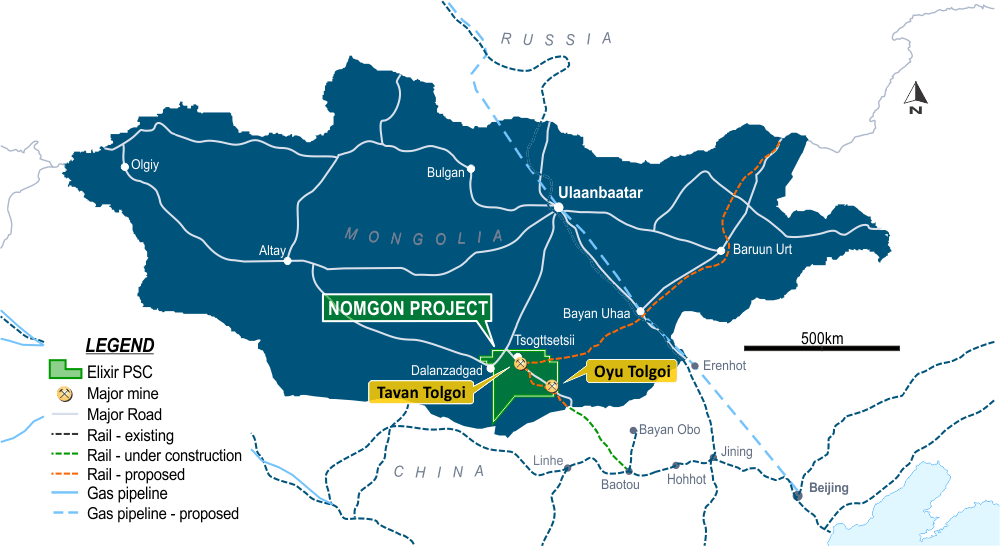 Unit 3B, Level 3
60 Hindmarsh Square
Adelaide, SA 5000
GOH LLC, 13th Floor, Central Park Tower, Genden Street, Chinggis Avenue, Sukhbaatar District, Ulaanbaatar, Mongolia