Daydream-2 flare latest You Tube
Daydream-2 latest MD interview
Daydream-2 latest ASX release
OVERVIEW
Elixir Energy Limited (ASX: EXR) is an ASX listed gas exploration and development company. It is currently primarily focused on an exploration and appraisal program targeting natural gas in the form of coal-bed methane (CBM – known as coal seam gas – CSG -in Australia) in the South Gobi, Mongolia and Queensland, Australia. Elixir Energy has been developing the Gobi H2 green hydrogen project and solar project in Mongolia.
Elixir Energy holds 100% of a CBM production sharing contract (PSC), located just to the North of the Mongolian/Chinese border, which is called the Nomgon. The Nomgon Project licence area covers ~30,000 km2 (~7 million acres).
Elixir Energy holds 100% of a Queensland exploration permit ATP 2044, named Grandis Gas Project. The Grandis Gas Project has booked an initial contingent resource (2C) of 365 billion standard cubic feet of gas.
The Company's strong foundation of multiple level Government and other energy stakeholder relationships is now being used as a platform to grow cleaner energy options involving hydrogen derived from renewables (green hydrogen).

MARKETS
Mongolia Nomgon Gas project – in addition to an initial (expandable) generation project, Mongolia has multiple market channels for gas, both local and export. The locational advantages are reinforced by geo-politics.
Queensland Grandis Gas Project – located close to the Wallumbilla gas hub, which is connected to domestic and international markets.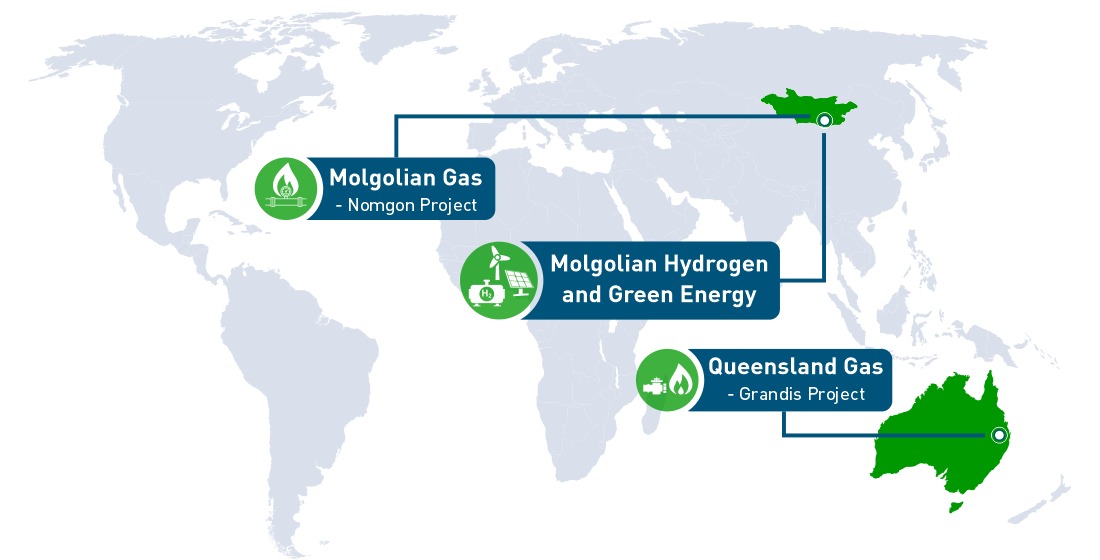 Unit 3B, Level 3
60 Hindmarsh Square
Adelaide, SA 5000
GOH LLC, 13th Floor, Central Park Tower, Genden Street, Chinggis Avenue, Sukhbaatar District, Ulaanbaatar, Mongolia